https://www.bbc.co.uk/programmes/w3csz51s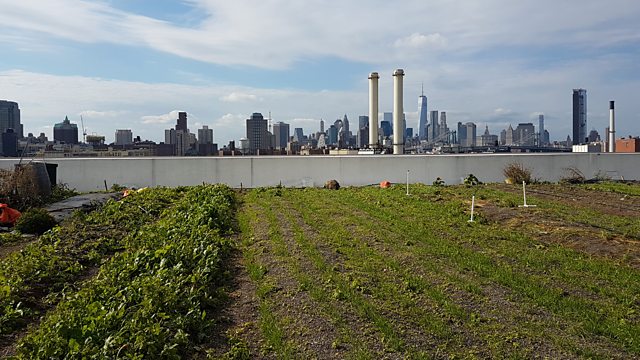 Listen now
Ground Shift : Scale and modern farming models
The CompassGround Shift: The Farming Revolution
Episode 3 of 4
From Big Ag and "factory farming" to urban micro farms, Anna Jones explores dramatic differences in the scale of modern agriculture.
Looking out across the New York City skyline, Anna hears how food can be produced sustainably, affordably and even abundantly on a rooftop in the heart of one of the world's biggest cities. Urban farmer Ben Flanner swapped an engineering career in Manhattan for growing vegetables on top of an 11th storey building in the Brooklyn Navy Yard. He believes Millennials are reconnecting with fresh ingredients, grown locally, and rejecting sugary, processed food – much of which contains corn syrup derived from the field corn grown under America's industrial farming model.
But on his combine in Iowa, rolling through 4,500 acres at the height of the corn harvest, 28-year-old Brandon Pickard says farms have expanded in order to survive. He believes industrial farming is the consequence of a shrinking farming population and expansion is the natural evolution of a successful business. He's proud of his corn crop and says it's helping to feed the world.
And Anna visits an organic farm in New York state which is making agriculture more diverse in terms of the crops they grow and the farmers that grow them. Rise & Root Farm is owned and run by four women – two of them are black and two of them are gay.
Producer: Anna Jones
(Photo: Brooklyn Grange Farm. Credit: Anna Jones/BBC)