http://ecoethics.net/2014-ENVRE120/20190317-EV&N-307-Link.html
https://www.cctvcambridge.org/node/626786
Through budget cuts, personnel changes and mobilizing "industry scientists" with questionable credentials and little experience the President and the GOP are destroying science for the pursuit of increasing immediate profits in the extractive fossil carbon industries of petroleum, coal and natural gas.  At the same time they are actively de-funding and seeking to destroy any programs that seek to identify and address the human cost of climate change within the United States and around the world
In a global response of outrage school children across the world have drawn inspiration from the example of Greta Thunberg — who, at the age of 15, began a "school strike" in Sweden to protest the inaction of government officials to the global climate crisis.   Greta has traveled throughout several countries in Europe, and her message has spread as well to Australia, the United States and beyond.
In every one of her talks it is clear that she does not hold out much hope for the current political leadership to be able to address the global climate crisis.  She is calling instead for a massive change in public consciousness to begin with school children.  Gone are the customary statements of confidence "in the future generations," etc.   She states baldly and boldly that adults have failed the human community and that it is time for a radical change at all levels of the human community.
By the end of February 2019, her message of radical realism had been heard and amplified at "Global Engagement Summit" at the United Nations Association (UNA) in the U.N. Headquarters in New York City.

Greta Thunberg's radical realism:
"I don't believe for one second that you will rise to that challenge…"
On 15 March 2019, an estimated 1.4 million students walked out of class in over one hundred and twenty countries around the world to protest the effective suicidal shutdown of governments around the world in the face of the climate crisis.  By the end of the week of the "Ides of March" Greta Thunberg had been nominated for the Nobel Peace Prize in recognition of her courageous, simple and insistent campaign to save the planet.
Mar 15, 2019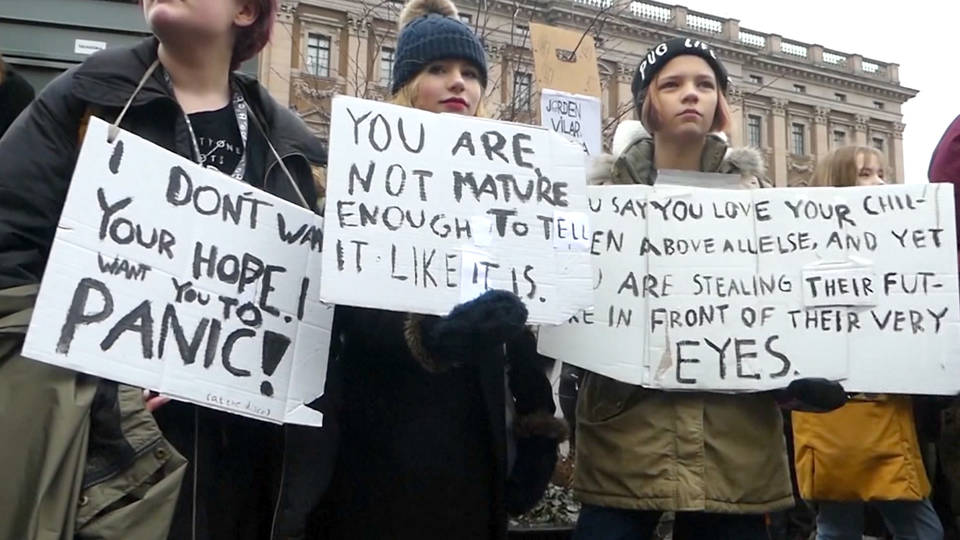 Mar 18, 2019
Students Take to Streets for International "Youth Climate Strike"
Students around the world left the classroom and took to the streets Friday for the "Youth Climate Strike," calling for decisive action on climate change. The international day of action was inspired by 16-year Swedish activist Greta Thunberg, who started a weekly Friday strike outside the Swedish parliament building last year. This is Thunberg speaking at the Stockholm demonstration.
Greta Thunberg: "And we, the young people, have not contributed to this crisis. … We are not going to accept it. We are not going to let it happen. And that is why we are striking. We strike because we want a future, and we will continue."
Greta Thunberg has been nominated for a Nobel Peace Prize. Here in New York City, Democracy Now! spoke to students rallying outside City Hall Friday.
Tasnim Emu: "My name is Tasnim Emu, and I'm from Urban Assembly Institute of Math and Science for Young Women. … They say that education isn't worth sacrificing to make a political point. But I think they're wrong, because we're all here going to school, and we think that we have this big future for us, but our education will be ignored if we're too busy trying to survive instead of living."
Later in the broadcast, we'll speak with a high school student from the Bronx High School of Science.
A Global Strike for Climate Change: 1.4 Million Students Walk Out of Class Demanding Action
Published on Mar 18, 2019
Up to 1.4 million children around the world took part in a global climate strike on Friday to demand world leaders do more to address the dangers of climate. The mass protests were sparked by 16-year-old Swedish climate activist Greta Thunberg, who has skipped school every Friday to sit outside the Swedish parliament to demand leaders act on climate change. Democracy Now! was in the streets of New York City on Friday with the young activists. We speak with 18-year-old Alysa Chen, one of the organizers of the walkout at New York City's Bronx High School of Science.
Follow The Guardian's coverage of the youth climate school strike  and